Introduction to Finding A Cheap Suboxone Treatment Clinic WITH NO INSURANCE
Finding cheap Suboxone can seem very hard. It may seem like you need to buy Suboxone illegally just to afford it. Luckily, there are better ways to get Suboxone. I have seen clients go from paying $600/month to $0 just by switching facilities for their Suboxone. Here is how to find cheap Suboxone doctors and treatment centers even if you do not have insurance.
This blog is purposely written so it is easy to read.
Step 1: Go to the SAMHSA Suboxone Treatment Locator Page
Click here to go to the website.
You can also click the link on the next line.
https://findtreatment.samhsa.gov/locator#
The website looks like this.
Step 2: Type your Zip Code in the SAMHSA Locator
1. Type in your zip code in the search box. Once you see your town, select it.
2. Then, click "Search Facilities."
3. Click the Substance Use (SU) Dropdown Menu
Click the down arrow next to the Substance Use arrow.
4. Show Free/Cheap Suboxone Facilities Only
Click the search box. In the search box, type in sliding.
Click the box next to Sliding fee scale.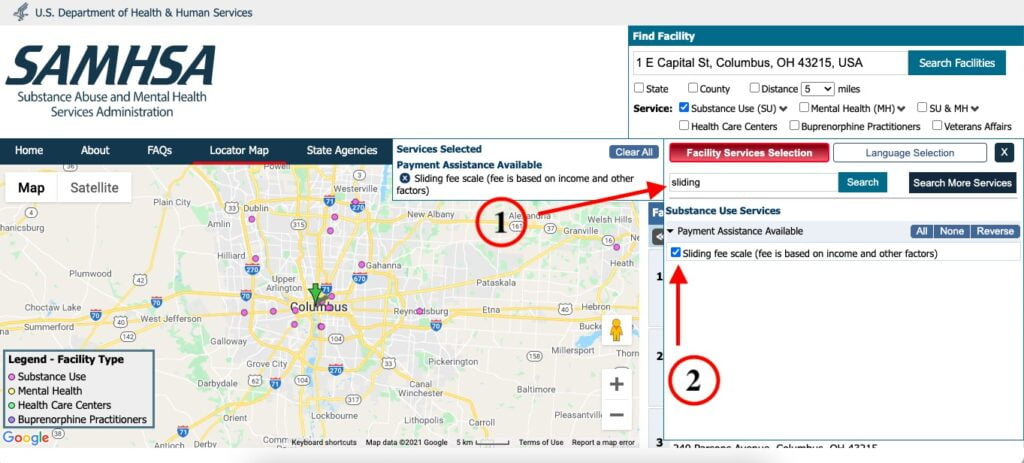 Then, erase sliding and type in payment. Click Payment Assistance. Now you will see places that offer discounts based on your income (how much money you make). This will help you find cheap suboxone treatment centers.
5. Show Outpatient Facilities Only
Click the search box and delete payment. Then, type in outpatient.
Click the box next to the one that says Outpatient methadone/buprenorphine or naltrexone treatment.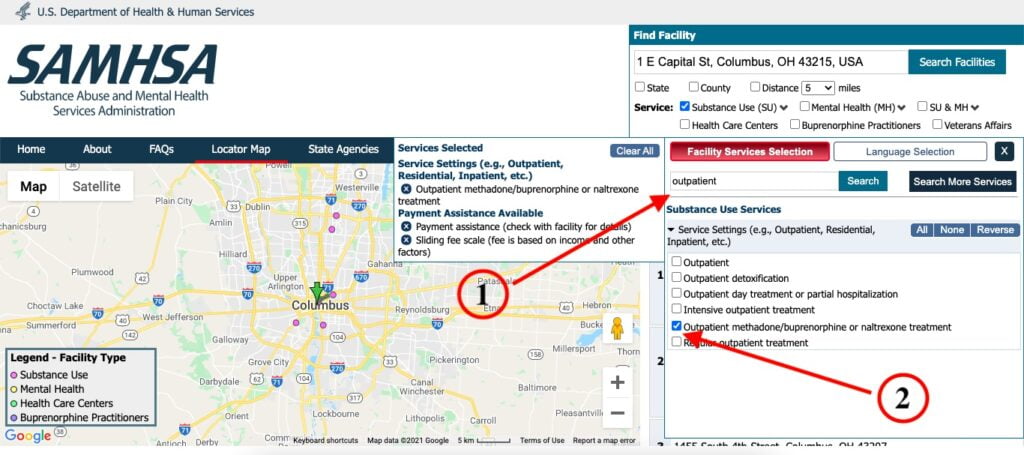 6. Show places that prescribe Suboxone (Buprenorphine)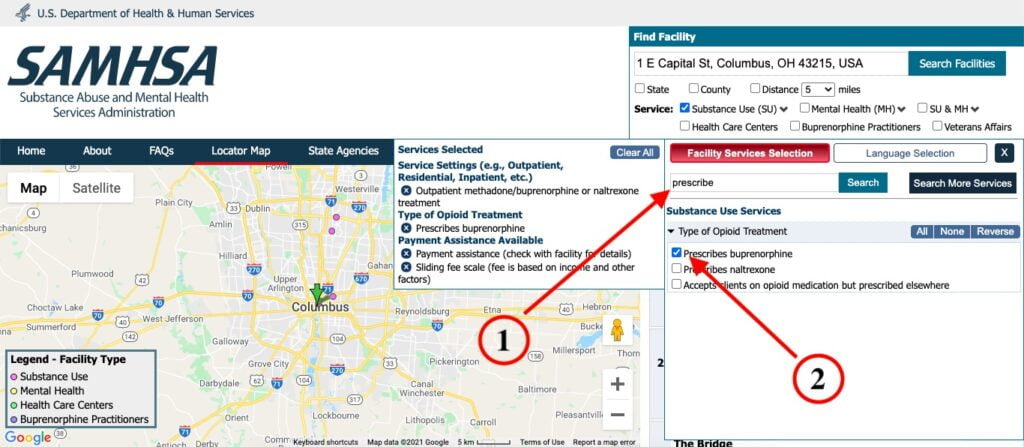 Delete the word outpatient. Then, type in prescribes.
Click the box next to prescribes buprenorphine. Buprenorphine is in Suboxone.
Then, exit the menu by clicking on the X.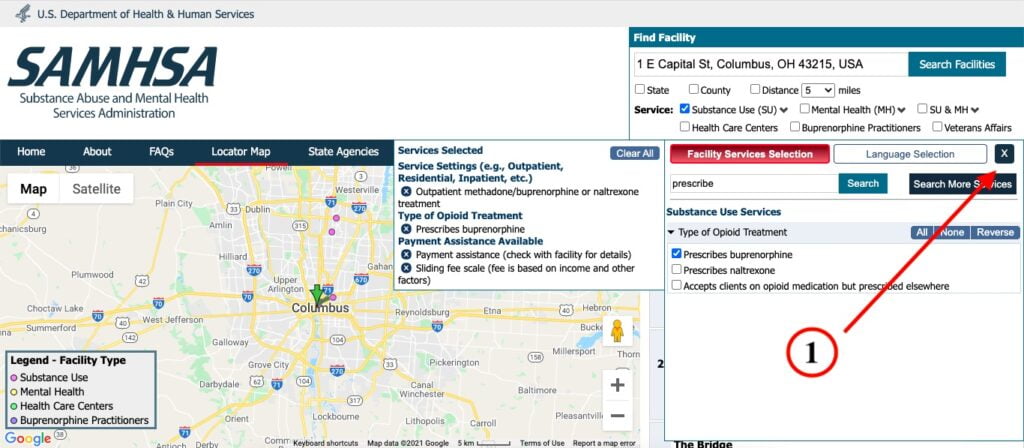 7. See the list of Cheap Suboxone Facilities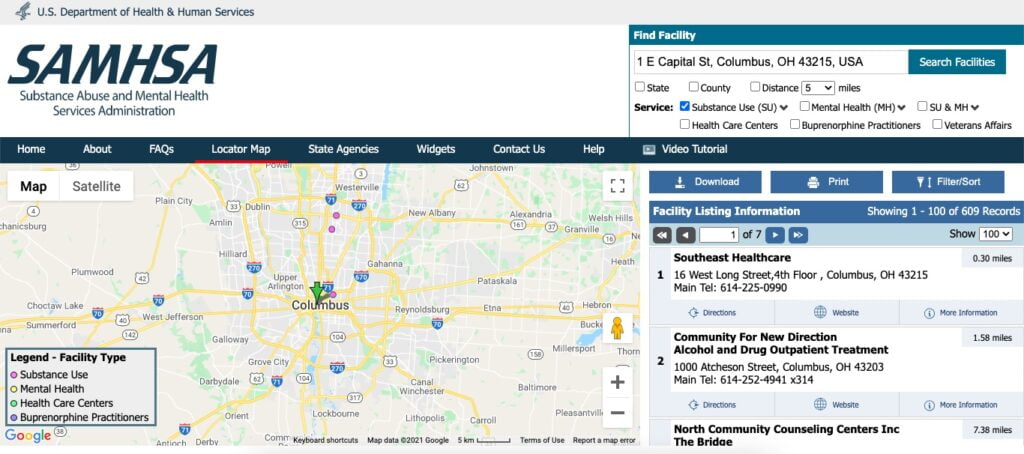 Once you get out of the menu, you will see all the places that prescribe Suboxone. Sometimes, the information on this website is wrong. You need to call each place and make sure they do these things.
8. Ask these questions when you call the Suboxone Clinic
Is this an outpatient facility? (An outpatient facility means that you go there, then you go home. You do not stay overnight. Inpatient is where you stay overnight.)
Is Suboxone prescribed here?
Do you offer a sliding fee scale based on income for Suboxone? (NOTE: Sliding fee scale means treatment costs less if you don't make much money. The less money you make, the less treatment costs. )
How much will this cost? I make about $________ a year. (NOTE: Call several places nearby and ask how much it will cost. Compare the places and go to the cheapest one.)
When is your soonest availability?
Is there anything else I should know before my visit? What should I bring?
9. Conclusion and Free Help
Suboxone can be hard to get. It can also be expensive and hard to find cheap suboxone treatment centers. I hope this blog post made it easier to find them. SAMHSA runs a hotline that you can call any day at any time. Their phone number is 800-662-4357. They can help you find a treatment center. It is free, confidential, and available 24/7. If you need help right now, you can call them.
If you have non-urgent questions, you can also contact us at [email protected]. We suggest you use the treatment locator first. If you need help finding alcoholism treatment, visit our Naltrexone Treatment page for affordable options.
Disclaimer: We do not know your specific situation. All information on this page is purely informational and we do not accept any liability for inaccurate information on any of the websites. We do not guarantee the locator will always be accurate. Use this guide at your own risk. Always make sure to ask how much treatment costs before starting. Under no circumstances do we accept liability for any actions you take after viewing this website. If you disagree with these Terms and Conditions (as they may be amended from time to time), or are dissatisfied with our website, your sole and exclusive remedy is to discontinue using this site. Thank you for understanding.