Introduction
Naltrexone is a prescription medication primarily used to treat alcoholism and help patients reduce their drinking. It is an effective medication and " … [naltrexone is] significantly beneficial in helping those who cannot remain abstinent to reduce their drinking behaviors…" [1]
Despite its efficacy, it often goes unheard of and many patients struggle to receive treatment. We've compiled a guide to help you get an online naltrexone prescription, legally. Make sure to have your insurance information before beginning. As always, before you make the appointment, call your insurance carrier and ask how much the appointment will cost. This way you do not receive any unexpected bills. Once you have your insurance, call the number on the back of the card and ask if your plan is a PPO or HMO. If your plan is an HMO or you have Medicaid, do not use this method. It will not work and you will likely receive a large bill since your visit won't be covered.
If you have a PPO, make sure to call your insurance and ask if you are allowed to see another in-network primary care physician. We have never seen a PPO plan deny this, and it is always good to get official confirmation your plan is acceptable. With that said, here is how you can get an online naltrexone prescription.
Step 1: Go to Zocdoc.com for a Naltrexone Prescription
Zocdoc.com is a website that connects patients to doctors. It's free for patients to use. The homepage should look something like this.
On the homepage, click the "Log in/Sign up" menu. Then click the "Sign up" option next to patients.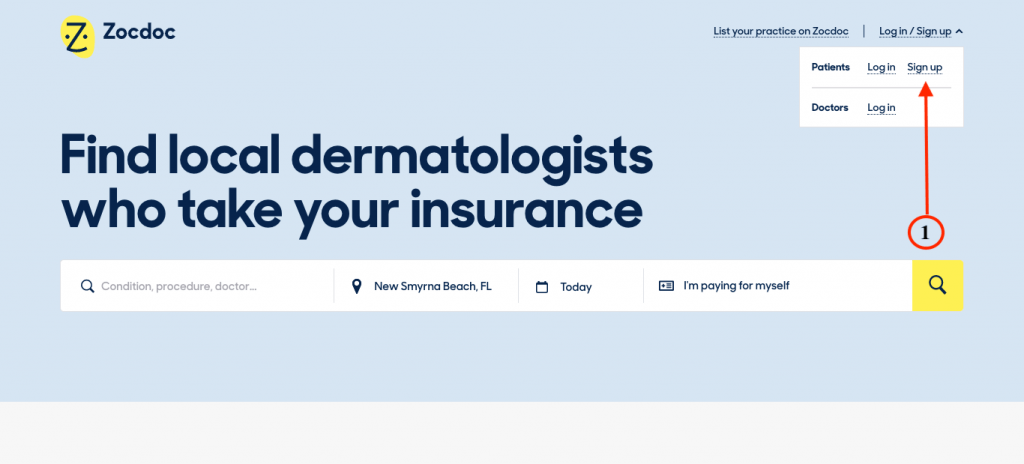 The sign up page looks like this:
If you have a Gmail or Facebook account, we suggest using that. Otherwise, you can create an account with an email and password.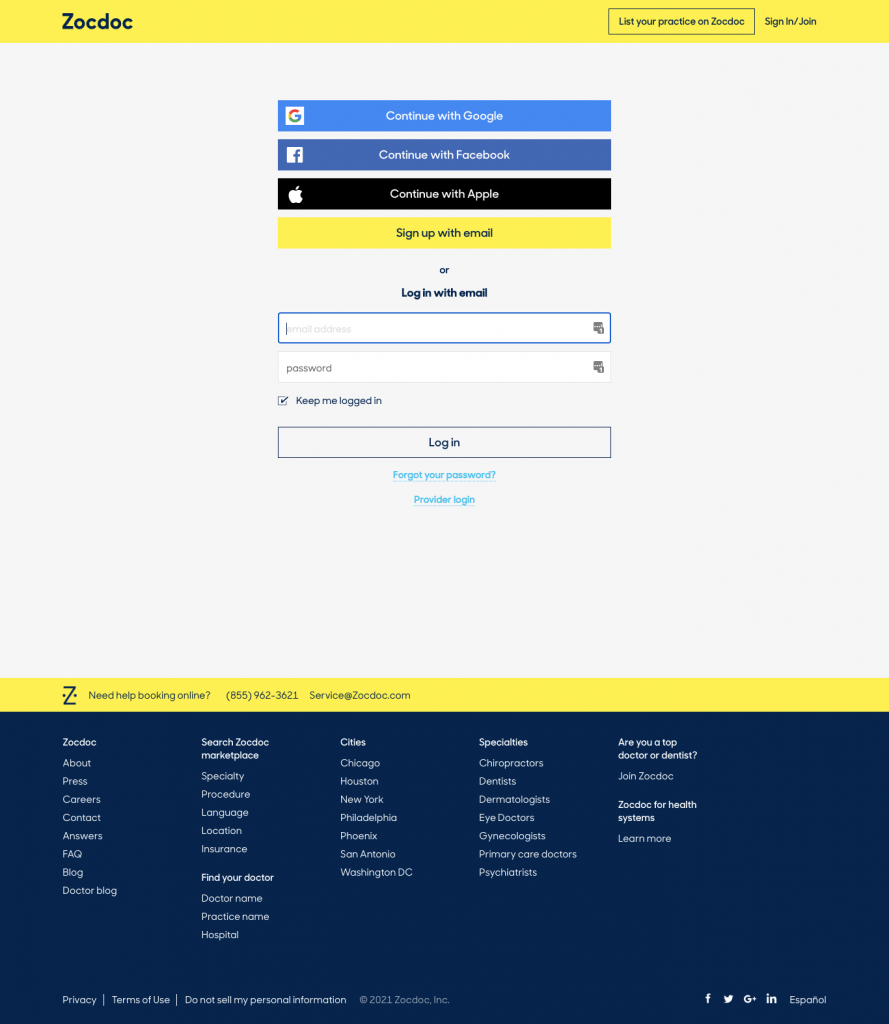 Step 2: Add Your Insurance On Zocdoc
Once you have signed up for Zocdoc, go back to the homepage by clicking on the Zocdoc logo in the upper left corner. If you need help going back to the homepage, go to zocdoc.com. This will bring you to the same page.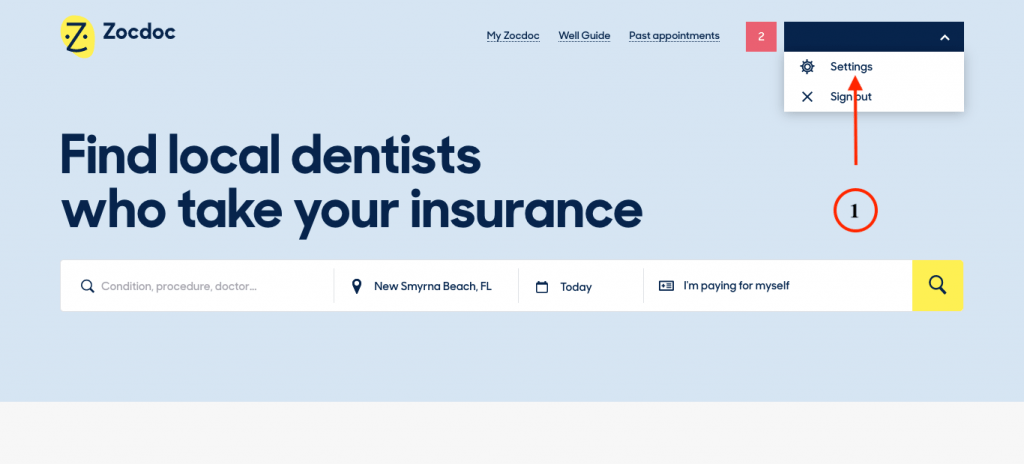 Inside settings, go to the "Insurance" tab and select it.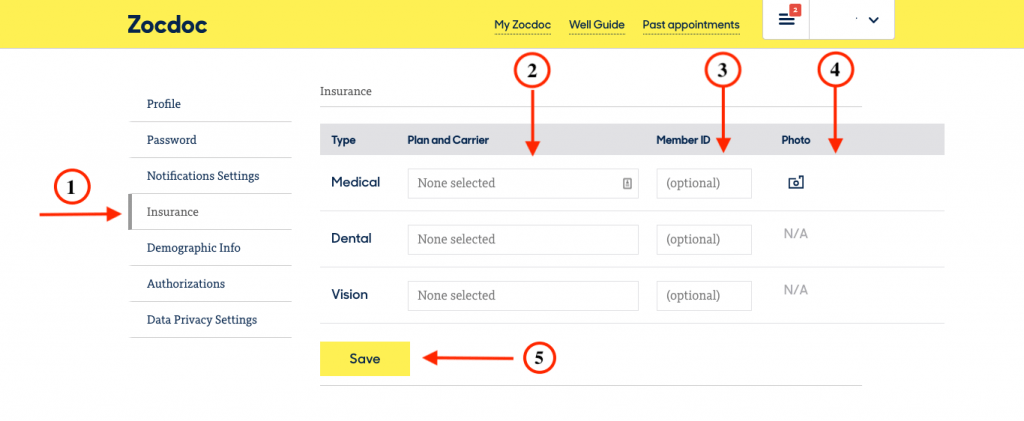 Fill in steps 2 and 3 with your insurance information. We also suggest uploading a picture of your insurance card at step 4 if you have it. Once you are finished, select save (step 5).
Step 3: Find a Naltrexone Doctor
Once you finish entering your insurance information, go back to the Zocdoc home page and enter these settings. For this example, we will be looking for a doctor who does Prescription / Refills in Dallas, TX, who is available today, and accepts UnitedHealthcare Choice Plus. UnitedHealthcare Choice Plus is the example insurance plan we will be using as an example.
You need to change location and insurance plan when you book the visit. If you need help finding the name of your plan, call the phone number on the back of your insurance card.
Remember, this does not work with Medicaid or HMO plans. For those plans, you need to talk to your PCP about finding a psychiatrist who can prescribe naltrexone. If you visit another doctor without getting a referral, insurance will not cover the visit and you may have to pay the entire cost.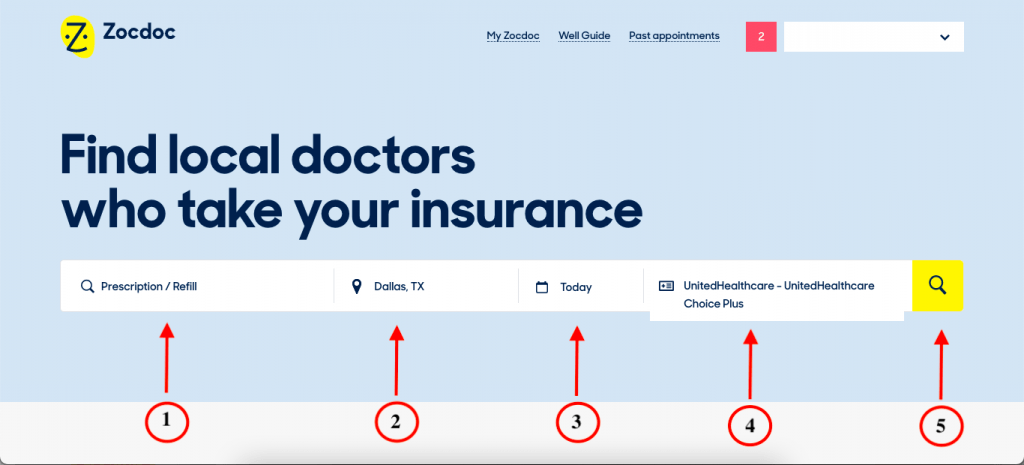 Once you enter your information, hit search.
Step 4: Choosing a Naltrexone Doctor
Once you click search, a page with doctors near you should show up.
Select "Video Visits." This show doctor who will see you virtual. You will have a video visit to get your prescription.
Then, select "specialty".
Under specialties, select these options: Primary Care Doctor, Internist, Family Physician, Nurse Practitioner, and Family Nurse Practitioner. This step is important because if you see someone like a dermatologist or another specialist for a naltrexone prescription, you will have to pay a higher copay. For example, if it usually costs $30 to see a doctor, it may cost $50 to see that doctor.
Once you select those options, hit "Apply."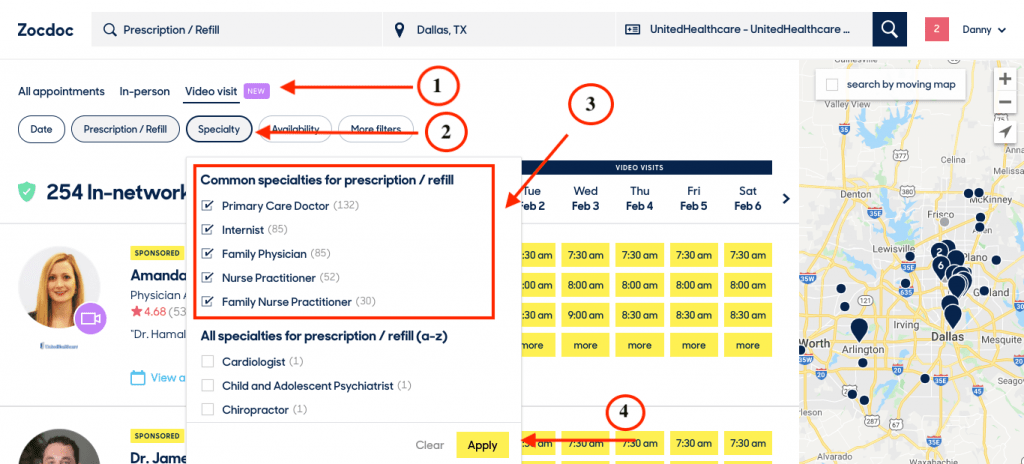 After you hit apply, an updated list will appear. In this case, it looks like this:

You can look through the list and choose the doctor you want to talk to. You can also read his or her reviews before you decide. After choosing a doctor, select the time slot you would like to see him. In this example, we are choosing Dr. Tri Nguyen.
When we select this doctor, a warning appears. All this box means is someone else instead of Dr. Nguyen may see you. If this is OK with you, select "OK, continue booking." If you want that specific doctor, find another one and repeat the process.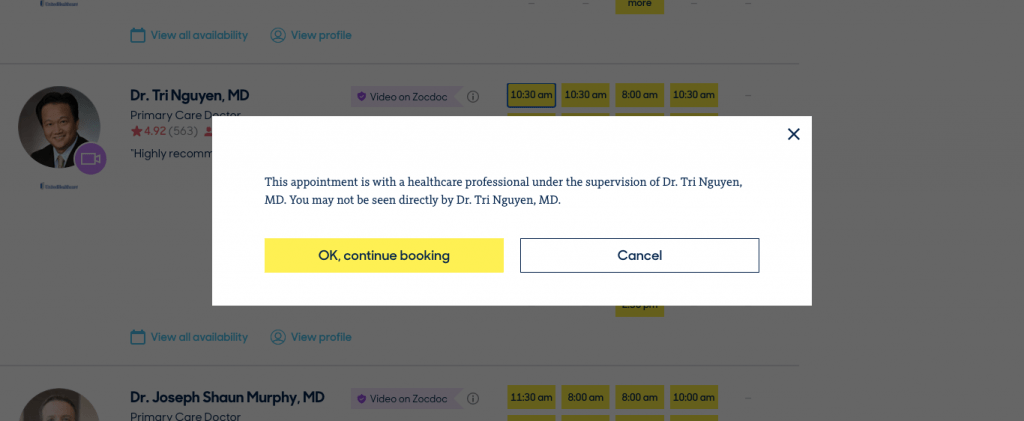 Step 5: Book the Appointment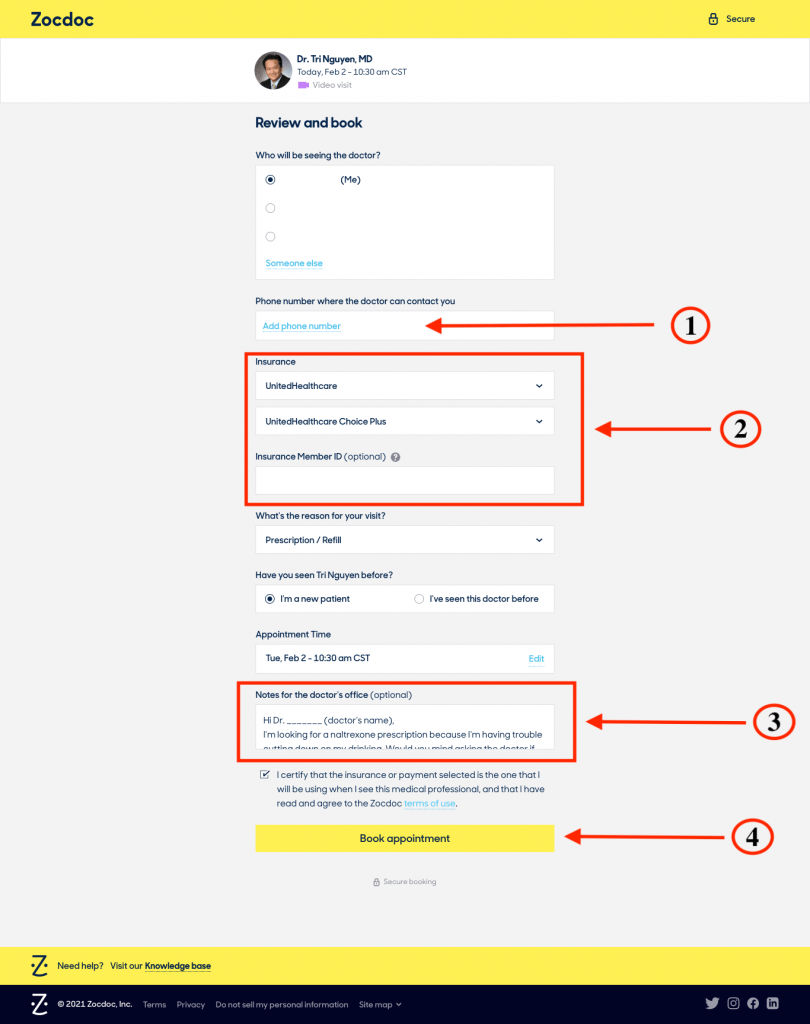 The final step to getting a naltrexone prescription online is to book the appointment on Zocdoc.
If you haven't already, add your phone number. This is incase the office needs to call you before the visit (step 1).
Confirm your insurance information. Make sure you've selected the right insurance plan and carrier. Also, we suggest typing in your Member ID so the office can confirm your coverage faster.
Lastly, add a note for the office. We suggest using the following template:
Hit Submit
Hi Dr. __________ (include doctor's name),
I'm looking for a naltrexone prescription because I'm having trouble controlling my drinking. Would you be open to and comfortable with prescribing this medication? If you are not please do not confirm the appointment.
Thank you,
_________ (your name)
We suggest this template because it shows you are set on naltrexone and it also tells the doctor not to confirm the appointment if he isn't comfortable prescribing it. You should also feel free to add any other information you feel is relevant. For example, if you attend AA, you may want to tell your doctor that. Once again, the decision is yours.
After you book the appointment, it will either be confirmed or cancelled. You will get an email from Zocdoc notifying you. If it is confirmed, call the office and ask how to access the virtual visits. Doctors offices use a wide variety of telemedicine platforms and it's best to double check with the office so you aren't late to your visit.
Conclusion and Final Words:
This is the cheapest and fastest way to legally get a Naltrexone prescription. The doctors that prescribe Naltrexone are primary care doctors; they aren't experts in alcoholism and they often don't know too much about this medication.
Sometimes, a doctor will order a liver panel test before prescribing Naltrexone. This is because naltrexone can cause an increase in liver enzymes (though it is somewhat rare at recommended doses). They may also do this to check for liver damage from drinking. A post by sinclairmethod.org explain the warning well.
If you have Medicaid or an HMO plan, please talk to your PCP and ask if he or she will prescribe it. If he or she doesn't, call the phone number on the back of your Medicaid card and ask for the information of in-network psychiatrists near you. Then, call them and book an appointment. Psychiatrists are more familiar with treating alcoholism, so you'll have less trouble obtaining a prescription from one of them.
As always, please contact us or your insurance plan with any questions. Other resources we suggest are AA and call SAMHSA if you feel you need more support. Their phone number is 800-662-4357. All calls are free and confidential. For more information, visit their website.
If you have any non-urgent questions, please contact us here.
We hope this information helps you. Please share this article with anyone who may need it. Alcoholism is a debilitating but very treatable condition.